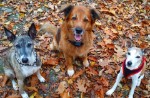 You are working or have other obligations. We can take care of your dog in a reliable, trusting and competent manner by taking it out for a walk. Individual needs and age are taken into account. Your dog will have company and a variety of different daily walks while it awaits your return.

The dogwalk takes about 45 minutes in small groups of up to 4 dogs in a solid pack, so that your dog feels completely comfortable and can enjoy the walk and play. Pick up and drop off service.

Through many years of experience as dog owners and animal carers, we are able to perform this service reliably, trustingly and professionally with a lot of heart and mind according to your needs and the needs of your dog.
Price:
Dogwalk Fr. 30,00
Day care Fr. 40,00
Dog hotel Fr. 45,00
Medication and injection: Per dose Fr. 2.50
---
The price includes:

Free and non-binding introductory talk
Approximately a half to three quarters of an hour walk with fun, games and variety or comfortable with older dogs
Pick-up and delivery service at home or at work
Feeding (if required)
Medication / injection (if required)
Report via e-mail or WhatsApp
---
Requirements to your dogs:

Microchipped and liability insurance

free of infectious diseases and vermin

socially acceptable to humans and other dogs

familiar with the basic dog commands and can be easily recalled

listed dogs by arrangement only

uncastrated males by arrangement only

dogs in heat by arrangement only
Additional services can be arranged individually according to your wishes and needs.